St John the Baptist
Cashel
The Cathedral Church of St John the Baptist and St Patrick's Rock Cashel from David Mullins on Vimeo.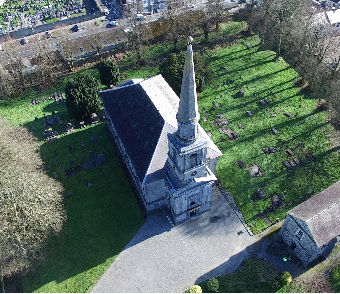 St. John the Baptist and St. Patrick's Rock, Cashel, resting at the heart of Tipperary's Golden Vale, is an epicentre of Irish and European heritage, with a history which predates the discovery of America and the New World by over a millennium.
A home to saints, scholars and warrior chiefs, it overlooks a magnificent landscape from atop the world famous Rock of Cashel.
The historic cathedral on the Rock of Cashel was closed for worship in 1721. Later, the old parish church of St John was removed and the present Georgian cathedral completed in 1784.
St. John the Baptist and St. Patrick's Rock, have perimeter walls dating back to the 13th century and the age of part of the graveyard is as yet, unknown.
As work continues to keep a modern and well maintained Cathedral, worshippers have a constant reminder of their heritage in being overlooked by the Rock of Cashel and Cormac's chapel
Adjacent to the Cathedral is the 19th century Chapter House which until February 2016 was home to the Bolton Library. Sadly the books that made up that magnificent Library were suffering from the effects of being in a building never designed to provide the right conditions for such irreplaceable works of literature, so in order to restore and conserve them, in February 2016, the Bolton Library was transferred to the University of Limerick.
Find Cashel
and Contact Us
The Apostles' Creed affirms our belief in God as Trinity – Father, Son and Holy Spirit – and that Christ was born to the Virgin Mary, died and rose again from the dead, ascended into heaven, and will come again.
Read more